Toastmasters International has announced the speakers for the 2018 Convention in Chicago.
Steve Gilliand – Steve is an iconic speaker, brilliant comedian and a member of the Speaker Hall of Fame. He has impacted countless lives with his words of wisdom and is regarded as one of the all-time best in the speaking industry.
Johnny Campbell – Johnny is a Keynote Speaker, Author and Founder of Rise-Up and Win International an organization that helps people turn their Personal Challenges into Breakthroughs & their Products and Services into Profits.
Pat Johnson – Pat is a seasoned executive who has been a leader in corporate, government, not-for-profit and entrepreneurial industries – and she was the fifth woman ever to serve as Toastmasters International President from 2010-2011.
Sarah Khan – Sarah gives keynotes and workshops in Bahrain and Dubai to Toastmasters and non-members alike on the topics of communication skills and her own journey overcoming social anxiety. One of her presentations was a two-hour talk titled "The Making of a Peace Monger."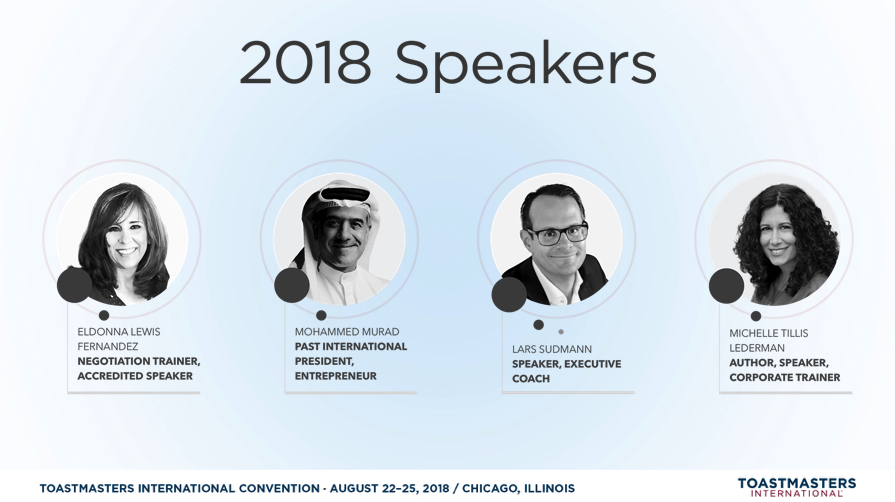 Eldonna Lewis Fernandez – Eldonna is a top leadership speaker, mentor, and consultant and her dynamic team will empower, inspire, and motivates leaders!
Mohammed Murad – Mohammed is a Police Officer turned Entrepreneur with a passion for training in Leadership and Team Spirit.
Lars Sudmann – Lars is a top leadership expert who has counselled executives at Fortune500 companies and SME's on how to improve performance, communication and leadership.
Michelle Tillis Lederman – Michelle is a highly sought-after keynote speaker, corporate trainer, and executive coach. As founder and CEO of Executive Essentials, she has delivered seminars for Fortune 500 companies, nonprofits, and universities, and has appeared on CBS, NBC, NPR, and Fox.